Written by Michelle Rindels – Published: October 16th, 2020 – the original article can be found here.
A temporary, $300-per-week add-on unemployment benefit through the Lost Wages Assistance program has started flowing to Nevada claimants and should be completed "over the next several days," state officials announced on Friday.
The Nevada Department of Employment, Training and Rehabilitation said that it made a small test run of payments earlier this week, and initial payments to claimants within the Pandemic Unemployment Assistance (PUA) program began last night. Nevada has received more than $400 million to dole out, which could provide four or five weeks' worth of payments to claimants.
"The Department has been working as quickly as possible to make this program available to Nevadans," DETR Acting Director Elisa Cafferata said in a statement. "Although LWA funding is limited to a set amount, our objective is to ensure payments are made to eligible claimants for as many weeks as the funding will allow."
Lost Wages Assistance, which was announced by President Donald Trump in early August, is funded through a finite amount of money from the Federal Emergency Management Agency (FEMA). It comes after a $600-per-week unemployment benefit add-on expired at the end of July.
Claimants can receive funds if they were eligible for benefits for the week ending August 1 and/or the several weeks after that. They must have been unemployed for a reason tied to COVID-19 and must be receiving at least $100 in unemployment benefits to receive Lost Wages benefits as well.
Claimants do not need to apply separately for the benefit, or reactivate a claim if they were eligible during the qualifying weeks but have since returned to work. Those still in the backlog will be eligible for Lost Wages benefits if their claim is approved, DETR officials said.
Unemployment statistics
Initial claims for regular unemployment ticked up last week by 13 percent, while PUA initial claims dropped to their lowest point of the pandemic. Combined, there were 17,461 initial claims last week — still high above the pre-pandemic weekly level of around 2,500.
Since mid-March, there have been 1.19 million initial claims for unemployment through the two programs.
DETR officials announced large batches of mass denials this week, however. More than 217,000 PUA claims will be denied in the next three weeks because DETR has been unable to verify the identity of applicants. That's on top of about 70,000 denials based on applicants that have eligibility in the regular unemployment program, and amounts to about half of all PUA claims filed.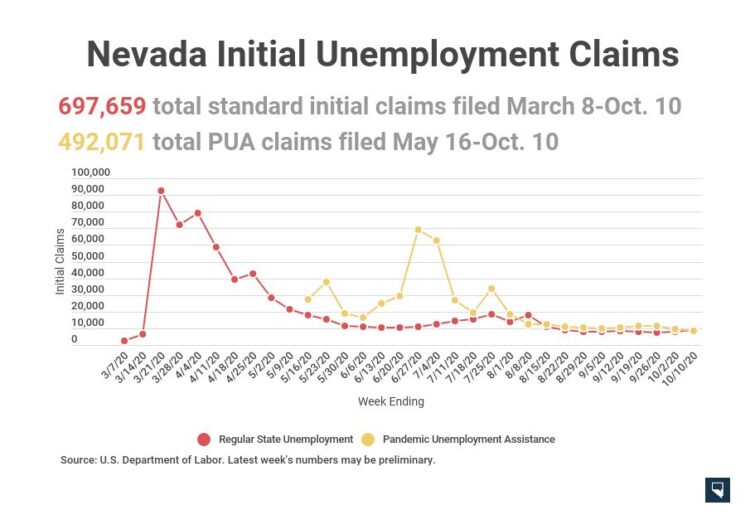 Continued claims, which are filed each week a person is unemployed, dropped in the two base programs but grew sharply in the Pandemic Emergency Unemployment Compensation (PEUC) program for the long-term unemployed. That happens as people exhaust their initial allotment of benefits and must move into extension programs.
Between all four programs, there were 317,648 continued claims indicating an applicant was unemployed last week. That's a drop of a little less than 6,000 from the unemployment rolls from a week earlier.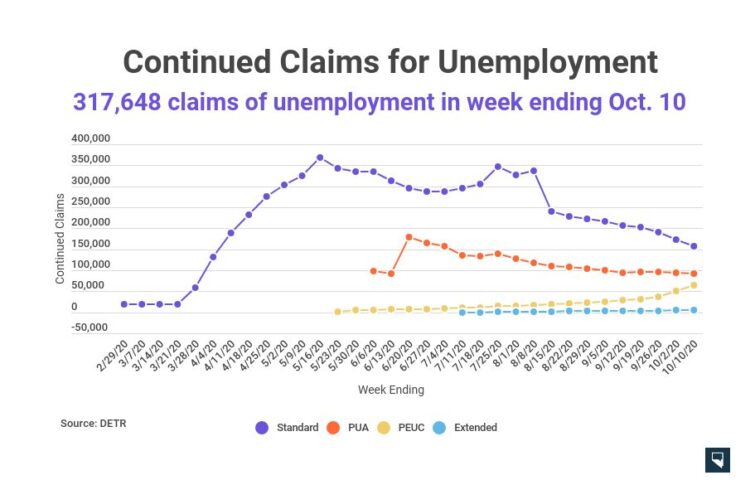 Nevada's unemployment trust fund stood at about $135 million last week, enough to pay about three weeks of benefits at the current rate. DETR ushered out about $88 million in state and federal dollars last week, down from about $92 million a week earlier.
The state also crossed a major milestone last week and has now administered more than $7 billion in benefits this calendar year.
Nevada expects to borrow from the federal government when the trust fund runs dry, but has not yet taken a loan; 21 other states have.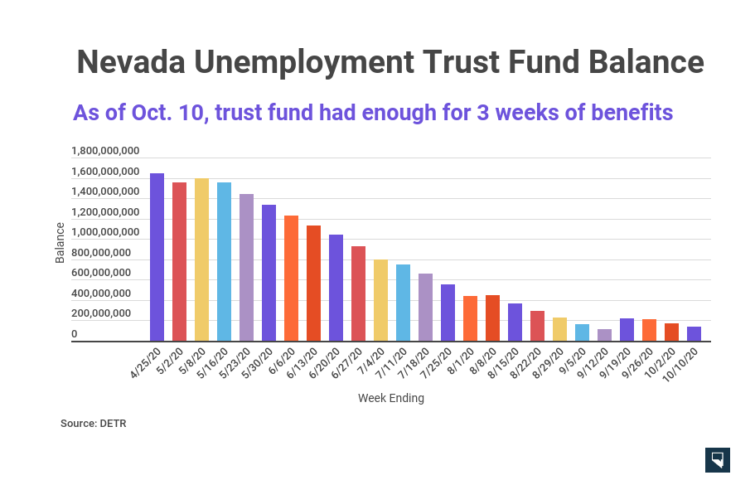 Nevada's unemployment rate, updated monthly, dropped to 12.6 percent in September. That's down from 13.3 percent in August and less than half of the state's pandemic peak of 28.2 percent.
A little less than half of the jobs lost between February and April have been recovered in Nevada, but DETR officials predict a slower recovery going forward.
"We are now transitioning into a new phase that is still constrained by ongoing social distancing requirements, business uncertainty, and economic headwinds," officials wrote. "While the economy will continue to grow, the pace is likely to be more moderate than the early recovery, especially as we wait for the widespread availability of a vaccine."