Originally Published by A.J. Weissler, Joe Glynias and Sarah George Thursday, December 8th 2022: Original article can be found here.
Law360 (December 8, 2022, 2:21 PM EST) —
In Cadena v. Customer Connexx LLC in October, the U.S. Court of Appeals for the Ninth Circuit held that computer startup time is compensable under the Fair Labor Standards Act, where computer usage is an integral and indispensable part of an employee's duties.[1]
More specifically, the case involved Connexx, a call center that provides customer service and scheduling for an appliance recycling business.
Connexx's employees use employer-provided computers for all phone calls, and, according to the lawsuit, these computers take 6.8 and 12.1 minutes to start up. Employees are not able to access timekeeping software to track time worked until the computer is fully booted.
Previously, the U.S. District Court for the District of Nevada had granted summary judgment for Connexx. It concluded that time spent waiting for the timekeeping software to open and logging into the timekeeping software was not compensable because it was akin to time spent waiting in a line to clock in, which is not compensable under federal law.
But, the Ninth Circuit took a much broader approach. Stating that tethering the analysis to the timekeeping software was too restrictive, the panel held the appropriate inquiry turns on the beginning and end of integral and indispensable duties for which the employee was hired.
The Ninth Circuit then concluded that — because Connexx is a call center that exclusively uses computers for its calls — an employee's computer use is both integral and indispensable, and booting it up is therefore compensable.
Notably, the panel offered no opinion on whether this outcome would occur under remote work conditions or with personal computers. Instead, the court limited its holding to employees who work at a central work site.
Key Takeaways
First, this case is an important reminder of how the continuous workday rule affects employee compensation.
Under that rule, an employer must compensate an employee for all time between the first and the last integral and indispensable duty for which the employee is employed.
Short breaks from work during which the employee engages in tasks that are not integral and indispensable that occur during the continuous workday — between the first and last integral and indispensable duty — must be paid unless they qualify as a bona fide meal period.
Employers are not obligated to pay for any preliminary activities that occur before the first integral and indispensable duty or any postliminary activities that occur after the last integral and indispensable duty. It is therefore crucial to identify — and control — which tasks start and end the continuous workday.
The Ninth Circuit provided guideposts for this analysis, using prior cases as examples: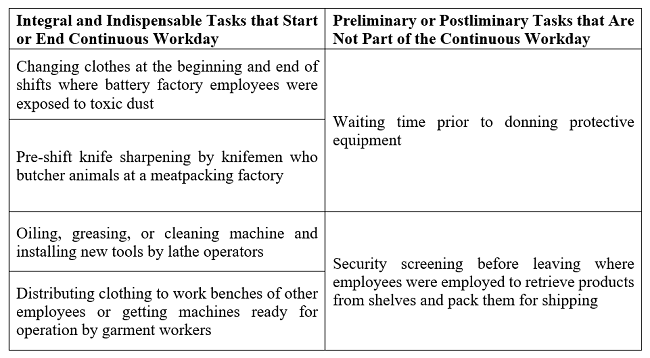 As the chart indicates, every task must be considered against the individual employee's particular job that they are employed to perform, and there are few categorical inclusions or exclusions.
Second, although its holding is focused on computer booting up time, the Ninth Circuit's reasoning provides help in assessing whether other tasks are integral and indispensable.
The court's analysis is perhaps best understood as eliminating the activity in question and then determining whether the employee can still perform the job they are employed to perform.
For instance, if you eliminate security screening from the warehouse workers' day, they would still be able to retrieve products and pack boxes for shipping. Thus, this time is not integral and indispensable.
But, if you eliminate changing clothes from the battery factory employees' day, they would be unable to work in the factory given the extreme safety hazards, the task is therefore integral and indispensable.
Applying that analysis to this case: If you eliminate the computer startup process, can Connexx employees still perform their customer service and scheduling calls, which occur entirely on Connexx computers? No. Thus, this time is integral and indispensable.
Finally, there is an important additional wrinkle to the analysis that was not resolved in this case: the impact of the de minimis rule.
When the Ninth Circuit reversed and remanded the case, it left it to the district court to determine whether the startup time is de minimis — that is, negligible and impractical to accurately record — and therefore not compensable.
Although de miminis activities are not compensable under the FLSA, courts disagree whether a de minimis activity can nevertheless start or extend the continuous workday.[2]
What This Means to You
While the Ninth Circuit limited its analysis to employees using employer-provided computers at a central work site, the case flags important considerations for when hourly employees — including remote workers — should be compensated for time spent on starting up and shutting down computers or engaging in other tasks off the clock.
Employers should carefully consider how their hourly employees begin and end their workday to identify which activities are likely the first and last integral and indispensable tasks that demarcate the beginning and end of the compensable continuous workday.
Employers should engage in the analysis used here by the Ninth Circuit by evaluating whether any particular activity can be eliminated with preventing the employee from doing their job.
If possible, employers should use policies, training, supervision and physical controls — for example, the location of timeclocks relative to gear or tools — to sequence activities to capture all work time during the continuous workday on the clock and to ensure preliminary and postliminary activities, those that do not have to be paid, outside of the continuous workday.
A.J. Weissler and Joe Glynias are partners, and Sarah George is an associate, at Husch Blackwell LLP.
The opinions expressed are those of the author(s) and do not necessarily reflect the views of their employer, its clients, or Portfolio Media Inc., or any of its or their respective affiliates. This article is for general information purposes and is not intended to be and should not be taken as legal advice.
[1] Cadena v. Customer Connexx LLC , 51 F.4th 831 (9th Cir. 2022).
[2] Compare, e.g,, Singh v. City of New York , 524 F.3d 361, 371 n.8 (2d Cir. 2008) (stating that a de minimis principal activity does not trigger the continuous workday rule"), with, Perez v. Mountaire Farms, Inc. , 650 F.3d 350, 377-78 (4th Cir. 2011) (finding the opposite).